143156627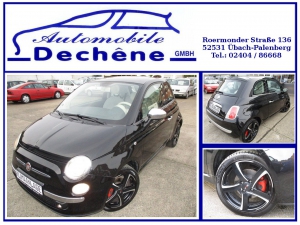 First registration
9/2008
Vehicle category
limousine
Vehicle type
used vehicle
Transmission
manual transmission, 5-speed
Equipment
ABS anti-blocking system
air conditioning
Bluetooth hands-free kit
Breakdown kit
Daytime Running Light
Driver Knie Airbag
Driver's seat height adjustable
driver´s airbag
Electric wing mirror
electronic immobilizer
exterior rear view mirrors heated
Fog headlamp
Front Sidebags
Front Side Head Airbags
infrared closing system
light alloy rims
linguatronic
metallic
Panoramic roof
Passenger Airbag
power steering
power windows (front doors)
radio-cd
Rear head restraints
Rear Side Head Airbags
steering column man./el. adjustable
Techn./Emissions Inspection New
tinted glass
USB connection
Note
Extrem günstig in der Versicherung! Klasse 12 in Haftplicht & Vollkasko!

---
Sonderausstattung:
Bremssättel Rot lackiert (original, nicht nachträglich)
Einparkhilfe elektronisch
Klimaautomatik
Metallic-Lackierung
Rücksitz geteilt / klappbar
Schalt-/Wählhebelgriff Leder
Weitere Ausstattung:
Airbag Fahrer-/Beifahrerseite
Audiosystem: Radio mit CD- und MP3-Player
Außenspiegel elektrisch verstell- und heizbar, beide
Beifahrerairbag abschaltbar
Blue & Me (Bluetooth mit Sprachsteuerung, USB-Schnittstelle, MP3)
Chrom-Paket
Elektr. Bremskraftverteilung
Heckscheibe heizbar
Isofix-Aufnahmen für Kindersitz an Rücksitz
Karosserie: 3-türig
Klimaautomatik
Knieairbag Fahrerseite
Kopf-Airbag-System vorn und hinten
Kopfstützen hinten
Lenkrad mit Multifunktion für Audiobedienung
Lenksäule (Lenkrad) höhenverstellbar
LM-Felgen Shark mit 195/45/16er + (auf Wunsch Winteraluräder: + 200EUR)
Motor 1, 4 Ltr. - 74 kW 16V KAT (169A3000)
Panoramadach (Glas)
Raucher-Paket (Nichtraucherauto)
Reifen-Reparaturkit
Seitenairbag vorn
Servolenkung
Sitz vorn links höhenverstellbar
Stau-/Ablagefach unter Sitz vorn rechts
Stoßfänger Wagenfarbe, Tankdeckel abschließbar
Tasche an Sitz vorn rechts
Türgriffe außen verchromt
Wärmeschutzverglasung
Zentralverriegelung mit Funkfernbedienung (1x)
---
Zahriemen bei 50000 Km erneuert. Bei Verkauf an Privat kann auf Wunsch die HU (z.Zt. 09/2021) für 2 Jahre (+ 200 Euro) neu abgenommen werden! Grundsätzlich kann ein Kaufinteressent, mit vorheriger Terminabsprache, im Rahmen einer Probefahrt, das Fahrzeug bei einer Werkstatt seines Vertrauens/ seiner Wahl, bei einer HU- Station oder anderweitig auf Zustand und Echtheit der Kilometerangabe untersuchen lassen. Vor Ort können wir dem Kunden mittels eines Lackschichtendicke-Messgerätes aufzeigen, ob und in welchem Umfang Bei- oder Nachlackierungen vorgenommen wurden. Niemand muss bei uns die Katze im Sack kaufen! Das Fahrzeug wird mit der vorgeschriebenen BGB- Sachmangelhaftung in eigenem Namen verkauft und nicht zur Vermeidung der Gewährleistung angeblich im Auftrag, wie es viele unseriöse Händler regelmäßig versuchen, um dem Käufer Regressansprüche vorzuenthalten.
Sonderpreis 5250 Euro möglich, bei Akzeptanz (hauptsächlich optischer) Mängel, die nur vor Ort gezeigt werden können.

---
Versicherungs- Typschlüsselnummer für Anfragen bei der Versicherung: 4136/AJD Extrem niedrige Versicherungskosten! (HK12/VK12/TK15; Kfz-Steuer: 94, 50 Euro/ Jahr), FESTPREIS für Endverbraucher. Wir würden uns über eine Anfrage zu diesem Fahrzeug sehr freuen und hoffen Sie beraten zu dürfen. Die im Angebot gemachten Angaben, insbesondere zu Versicherung und Steuern, stellen keine zugesicherten Eigenschaften im kaufrechtlichen Sinn dar. Verbindlich sind einzig und allein die Vereinbarungen im Kaufvertrag. Der Anbieter haftet nicht für Irrtümer, Eingabefehler und Datenübermittlungsfehler. Zwischenverkauf und Irrtümer für dieses Angebot sind ausdrücklich vorbehalten.
Partner (name, surname)
Günther Dechêne
Geschäftsführer
0240486668

* More information about the official fuel consumption and official specific CO2 emissions of new cars can be found in the guide on fuel consumption and CO2 emissions of new cars", which is available free of charge at all sales outlets and at the "Deutsche Automobil Treuhand GmbH" at www.dat.de
Data protection notice
To process your request through webmobil24.com and service providers commissioned by webmobil24.com, your above-mentioned personal data is collected processed, transmitted or used, and - if required for executing or processing the inquiry - transmitted to companies associated with webmobil24.com, to service providers or a partner of webmobil24.com to be processed or used. If data is transferred to countries outside the EEA to the above-mentioned parties and processed there (e.g. for technical storage and processing by the authorised data processing service provider in the US), this is of course done in full compliance with applicable regulations for the protection of personal data. By submitting this form you agree that you may be contacted by e-mail for the above-mentioned purposes. If you do not want your data to be used for the above-mentioned purposes, please contact the above-mentioned supplier.
Sell ââgood pictures vehicles: 36 XXL photos, + slideshow and video on every vehicle possible.

The most important vehicle information at a glance.

Contact person can be used individually or generated from the data of the e-mail response system.

Quality management - Envkv or quality seal are uploaded automatically

Contact person can be used individually or generated from the data of the e-mail response system.

For lovers of detail: adjustment of all features possible.

The way to your dealership: That's how the customer always finds you!