138488491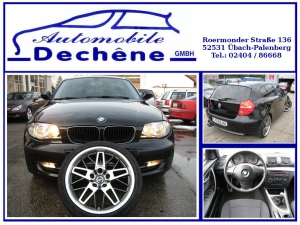 Tech. Inspec./Emission
New
Vehicle type
Pre Owned Vehicle
Transmission
Manual Transmission 6-speed
More information
door quantity
5 Door
Total weight
1.745 kg
Seats
5
Internal number
08415
Equipment
ABS anti-blocking system
AUX in connection
Driver Airbag
ESP
Front Sidebags
Front Side Head Airbags
infrared power doorlocks system
ISOFIX child safety car seat bracket
On Board Travel Computer
Outside Temperature Gauge
Passenger Airbag
power locks
power side mirrors
Power Steering
Power Windows (front)
Power Windows (front+rear)
Radio/Cassette
Radio/CD
Rear Side Head Airbags
Split Back Seat
steering column man./el. adjustable
Techn./Emissions Inspection New
Tinted Glass
Tire Pressure System
Note
Steuerkette, Verstelleinheiten, Injektoren gerade neu bei BMW für 4000 EUR!

---
Sonderausstattung:
AC Schnitzer Black Edition Paket:
AC Schnitzer Alufelgen 18" mit 225/40/18
AC Schnitzer Fahrwerk/ Tieferlegung 30mm
AC Schnitzer Auspuffblende
Advantage-Paket
Weitere Ausstattung:
6-Gang
ABS
Airbag Fahrer-/Beifahrerseite (insgesamt 8 Airbags)
Audiosystem BMW Business CD (Radio/CD-Player)
Außenspiegel elektrisch verstellbar
Außenspiegel Wagenfarbe
Außentemperaturanzeige
AUX-IN-Anschluss
Blinkleuchten Weiß
Bordcomputer
Bremsenergierückgewinnung
Check-Control-System
EfficientDynamics-Paket
Fensterheber elektrisch hinten
Innenausstattung: Interieurleisten Silber
Isofix-Aufnahmen für Kindersitz
Karosserie: 5-türig
Kopf-Airbag-System hinten
Kopf-Airbag-System vorn
Lenksäule (Lenkrad) mechanisch verstellbar
Motor 2, 0 Ltr. - 90 kW KAT
Reifendruck-Kontrollsystem
Reifenpannen-Anzeige
Rücksitzbank klappbar
Rücksitzlehne geteilt/klappbar
Schaltpunktanzeige
Servolenkung
Seitenairbag vorn
Sitzausstattung: 5-Sitzer, Sitzbezug / Polsterung: Stoff Elektra
Sitze vorn höhenverstellbar
Sitze vorn mechanisch verstellbar
Start/Stopp-Funktion
Stoßfänger Wagenfarbe
Verglasung grün getönt
Zentralverriegelung mit Funkfernbedienung (2x)
Winterräder auf Stahlfelgen
---
Früher oder später muss bei jedem 1er die Kette erneuert werden, weil die Originalqualität nicht ein Autoleben lang hält, daher sollte man keinen gebrauchten 1er kaufen, der noch keine neue Kette hat. Bei diesem Fahrzeug wurde die Kette gerade erneuert, so dass man nun lange genug Ruhe hat. Es können auch leicht Kosten von deutlich über 5000 Euro für diese Reparatur anfallen!!!
---
Bei Verkauf an Privat wird die HU neu abgenommen! Grundsätzlich kann ein Kaufinteressent, mit vorheriger Terminabsprache, im Rahmen einer Probefahrt, das Fahrzeug bei einer Werkstatt seines Vertrauens/ seiner Wahl, bei einer HU- Station oder anderweitig auf Zustand und Echtheit der Kilometerangabe untersuchen lassen. Vor Ort können wir dem Kunden mittels eines Lackschichtendicke-Messgerätes aufzeigen, ob und in welchem Umfang Bei- oder Nachlackierungen vorgenommen wurden. Niemand muss bei uns die Katze im Sack kaufen! Das Fahrzeug wird mit der vorgeschriebenen BGB- Sachmangelhaftung in eigenem Namen verkauft und nicht zur Vermeidung der Gewährleistung angeblich im Auftrag, wie es viele unseriöse Händler regelmäßig versuchen, um dem Käufer Regressansprüche vorzuenthalten.

---
Versicherungs- Typschlüsselnummer für Anfragen bei der Versicherung: 0005/ARV (HK18/VK16/TK18; Kfz-Steuer: 135 Euro/ Jahr), FESTPREIS für Endverbraucher. Wir würden uns über eine Anfrage zu diesem Fahrzeug sehr freuen und hoffen Sie beraten zu dürfen. Die im Angebot gemachten Angaben, insbesondere zu Versicherung und Steuern, stellen keine zugesicherten Eigenschaften im kaufrechtlichen Sinn dar. Verbindlich sind einzig und allein die Vereinbarungen im Kaufvertrag. Der Anbieter haftet nicht für Irrtümer, Eingabefehler und Datenübermittlungsfehler. Zwischenverkauf und Irrtümer für dieses Angebot sind ausdrücklich vorbehalten.
* More information about the official fuel consumption and official specific CO2 emissions of new cars can be found in the guide on fuel consumption and CO2 emissions of new cars", which is available free of charge at all sales outlets and at the "Deutsche Automobil Treuhand GmbH" at www.dat.de
Data protection notice
To process your request through webmobil24.com and service providers commissioned by webmobil24.com, your above-mentioned personal data is collected processed, transmitted or used, and - if required for executing or processing the inquiry - transmitted to companies associated with webmobil24.com, to service providers or a partner of webmobil24.com to be processed or used. If data is transferred to countries outside the EEA to the above-mentioned parties and processed there (e.g. for technical storage and processing by the authorised data processing service provider in the US), this is of course done in full compliance with applicable regulations for the protection of personal data. By submitting this form you agree that you may be contacted by e-mail for the above-mentioned purposes. If you do not want your data to be used for the above-mentioned purposes, please contact the above-mentioned supplier.
Sell ââgood pictures vehicles: 36 XXL photos, + slideshow and video on every vehicle possible.

The most important vehicle information at a glance.

Contact person can be used individually or generated from the data of the e-mail response system.

Quality management - Envkv or quality seal are uploaded automatically

Contact person can be used individually or generated from the data of the e-mail response system.

For lovers of detail: adjustment of all features possible.

The way to your dealership: That's how the customer always finds you!